Diatrizoate sodium FACTORY Sodium amidotrizoate diatrizoic acid sodium salt dihydrate CAS NO.737-31-5 CAS NO.737-31-5
MSDS/COA Download

FOB Price: USD: 1.00-1.00 /Kilogram Get Latest Price
Min.Order: 1 Kilogram
Payment Terms: L/C,T/T,Western Union,MoneyGram,Other
Available Specifications:

99(1-100)Kilogram99(100-1000)Kilogram

Keywords
Diatrizoate sodium
Sodium amidotrizoate
Hypaque Sodium
Quick Details
ProName: Diatrizoate sodium FACTORY Sodium amid...
CasNo: 737-31-5
Molecular Formula: C11H8I3N2NaO4
Appearance: powder
Application: contrast agent
DeliveryTime: 2 days
PackAge: 1kg/25kg drum
Port: Tianjin xingang,qingdao,shanghai
ProductionCapacity: 800 Kilogram/Month
Purity: 99%-99.5%
Storage: Store at RT.
Transportation: by sea, express,air
LimitNum: 1 Kilogram
Grade: Industrial Grade,Pharma Grade
Loss on drying: 6.5%
pH 10% aqueous solution: 7.0-9.5
Superiority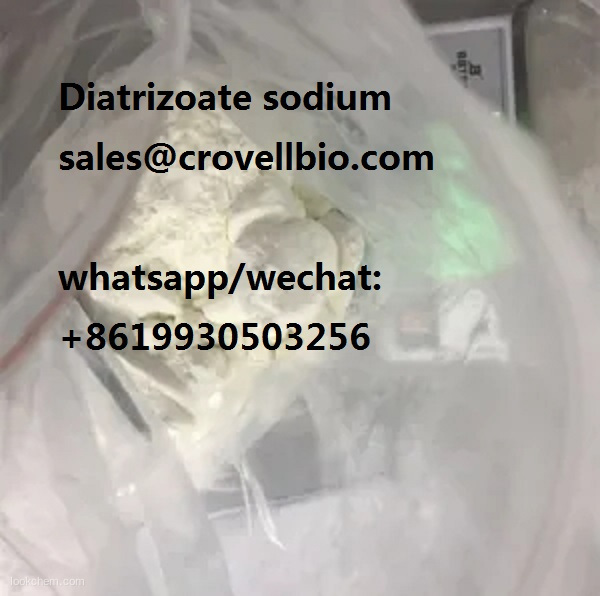 Diatrizoate sodium FACTORY Sodium amidotrizoate diatrizoic acid sodium salt dihydrate CAS NO.737-31-5
产品名称
Product Name
Sodium diatrizoate hydrate
别名
Synonyms
泛影酸钠盐水合物;泛影钠(2水合物);3,5-二乙酰胺基-2,4,6-三碘苯甲酸钠盐;3,5-双(乙酰胺基)-2,4,6-三碘苯甲酸钠盐。 Diatrizoic acid sodium salt dehydrate; Sodium amidotrizoate; Sodium diatrizoate; 3,5-Diacetamido-2,4,6-triiodobenzoic acid sodium salt; 3,5-Bis(acetylamino)-2,4,6-triiodobenzoic acid, sodium salt
CAS No.
737-31-5
化学分子式
Molecular Formula

C11H8I3N2NaO4·xH2O

分子量
Molecular Weight
635.90(干基)
结构式
Structure formula
外观和物理状态
Appearance & Physical State

白色粉末
1.place of origin china with super quality by reasonable price.
2. it's customers' right to choose the package (ems, dhl, fedex, ups);
3. it's customers' right to choose the packing way for his produccts from many recent effective packing way
4. specials are possible when client's order is big enough, including the discount policy;
5. our company promise to deliver clients' package to his hands safely, or we'll cover the total loss and reship in time;
6. we can help our regular clients to suggest some vials factories which produce different size vials(2ml, 5ml, 7ml, 10ml, 20ml...), hoping can bring you convenience if you need these vials, too.e
7.sample order are welcome.
Details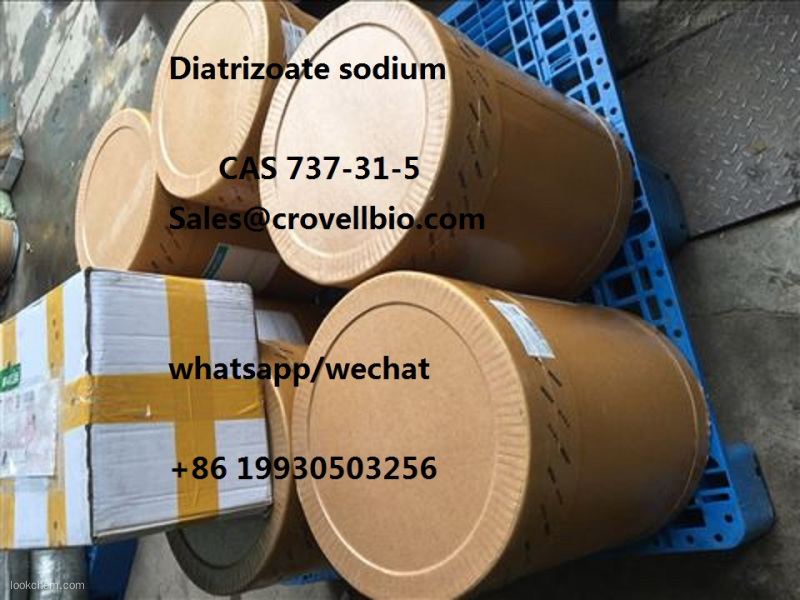 English Name: Diabetic acid sodium salt hydrate
3,5-bis (acetylamino) - 2,4,6-triiodobenzoic acid sodium salt
CAS :737-31-5
Molecular formula: c11h12i3n2nao6
Molecular weight: 671.926
Appearance: white to white powder, odorless, slightly salty. Soluble in water, slightly soluble in ethanol, insoluble in ether.
Content (titration, dry basis%) 99%
Loss on drying 6.5%
The pH value of 10% aqueous solution is 7.0-9.5
Purpose: benzoate as iodine contrast agent. It is mainly used for urography, cardiovascular, cerebrovascular, peripheral vascular, cholangiography and various injection methods, such as joint cavity, hysterosalpingography and fistula angiography.
Package: 1kg / 25kg
产品名称
Product Name
Sodium diatrizoate hydrate
别名
Synonyms
泛影酸钠盐水合物;泛影钠(2水合物);3,5-二乙酰胺基-2,4,6-三碘苯甲酸钠盐;3,5-双(乙酰胺基)-2,4,6-三碘苯甲酸钠盐。 Diatrizoic acid sodium salt dehydrate; Sodium amidotrizoate; Sodium diatrizoate; 3,5-Diacetamido-2,4,6-triiodobenzoic acid sodium salt; 3,5-Bis(acetylamino)-2,4,6-triiodobenzoic acid, sodium salt
CAS No.
737-31-5
化学分子式
Molecular Formula

C11H8I3N2NaO4·xH2O

分子量
Molecular Weight
635.90(干基)
结构式
Structure formula
外观和物理状态
Appearance & Physical State

白色粉末
Hebei Guanlang Biotechnology Co., Ltd. was founded in 2007 , located in Shijiazhuang city which is the capital of Hebei Province and hub sector among Beijing Tianjin and Hebei and has advantage of convenient transportation . Our company is a modern high-tech chemical enterprise with Research & Development, production and sales.
Our company has strong technical strength, advanced equipment, strict quality management system and high-quality after-sales service, adhers to the "customer first and forge ahead" business philosophy and insists on integrity as the company's survival. All for the customers' satisfaction, all for the long-term healthy development of the enterprise. In the past 10 more years, we have been strictly managing the whole trade process, focusing on every detail, providing customers with all-round services such as product purchase, R & D, quality control, logistics management and so on, and become reliable cooperation company and partner for our clients. Nowadays We formed large varieties, large scale, complete categories, refined degree, added value and high technology content product chain .There are several series including pharmaceutical products, food grade additives, industrial grade, fertilizer grade and mineral products.
In recent five years, the company has implemented the strategy of "going out" vigorously. We has established our branches in Hubei China, Vietnam and Mexico, making our market and sales network more and more perfect. Our company will continue to adhere to the strategic positioning of fine chemical industry in the future and competition ideas of irreplaceable product differentiation, and strive to become to the leading of Chinese chemical industry.